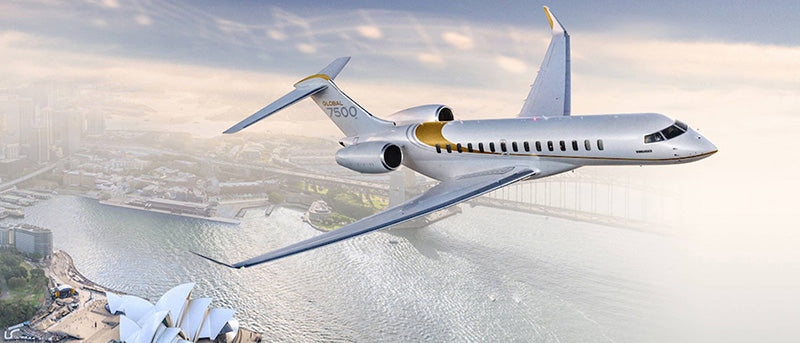 Bombardier Global 7500 vs Gulfstream G650ER performance of Business Aviation's two big ultra-long-range contender.

A close competition is to be expected when you advance the technology field in the manner of these two aircraft makers.

Price:
Bombardier Global 7500 ($72.8 million) and Gulfstream G650ER ($71.5 million)
The retail price of the Bombardier Global 7500 is slightly higher.

Engine:
General Electric (GE) for Bombardier's global 7500/8000 engines;
Rolls-Royce engine for the Gulfstream G650/650ER.
While the two planes have different engines, they both carry 19 passengers and travel at about Mach 0.9.

Range:
Bombardier has extended the range of the Global 7500 and 8000 to 7,700 nautical miles and 7,900 nautical miles, respectively.
The G650 aircraft has a range of 7000 nautical miles / 7500 nautical miles.
That's enough to fly nonstop from Sydney to Los Angeles, more than a Gulfstream G650.
But the importance of distance is debatable.
"Increasing the range is more about generating headlines and showcasing marketing prowess than (it's) really thinking about the customer."
"Most planes don't go as far as these planes can, so a range of a few hundred nautical miles won't make much of a difference anyway."
"Both aircraft offer the same speed, altitude and luggage capacity."

Cabin Interior:
The real difference is in the cabin.
The G650 has a few centimeters advantage in cabin width and height, but the Global 7500's cabin is more than two meters longer than the G650's.
This offers some interesting possibilities in the tight space of a business jet.
"Its four-zone layout and additional space will appeal to clients looking for more privacy - offering a dedicated, permanent bedroom area rather than one converted from couch seating (which is currently the global and Gulfstream flagship models)."
"Its suite also has a single shower room (which the G650ER doesn't have), and a large conference suite with a six-seater table that can also be used as a formal dining space."
"Bombardier has also added additional windows (now 28 in total) to compete with Gulfstream's famous lightweight cabin."
"Another Bombardier ace is its state-of-the-art ergonomic seat, called Nuage, the result of a seven-year research and engineering process."